Back
The weather forecast for today, Saturday 01.10.2022
Mostly overcast
During the day the upper air flow will turn to northwest, the air masses remain humid.
Mostly cloudy weather. In the North often overcast and in the afternoon some rain is possible.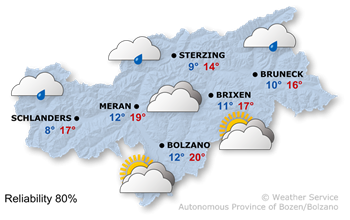 The weather forecast for tomorrow, Sunday 02.10.2022
More sun
The high currents will remain from the northwest. The air masses will still be humid.
In the north the weather will be unstable with some sunny spells towards Resia and light rain towards the northeast. In the south the clouds will dissipate in the morning with increasingly sunny weather.