Back
The weather forecast for today, Friday 09.12.2022
Light snowfall
A low pressure system over Italy will also have a marginal influence on the weather in South Tyrol.
Cloudy sky with light snowfall. Snowline rising in the afternoon and precipitations will stop from the West.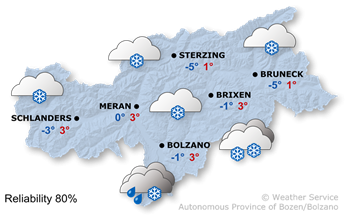 The weather forecast for tomorrow, Saturday 10.12.2022
Cloudy
Humid air mass over the region. In the evening föhn winds on the southern side of the Alps.
Mostly cloudy weather, only few sunny spells. Dry during the day, light snowfall towards the evening on the border to Austria. Northerly winds in the valleys in the evening.